Capellania
Órgiva - La Alpujarra Granada Spain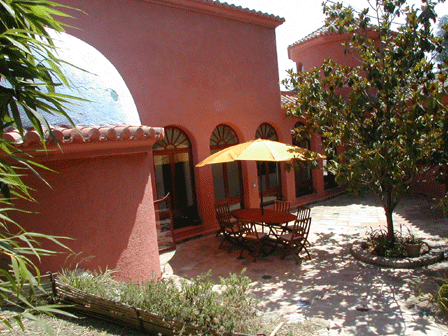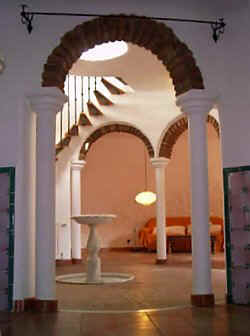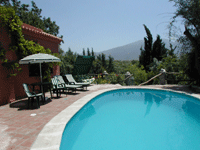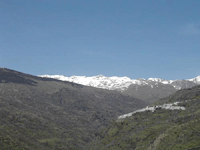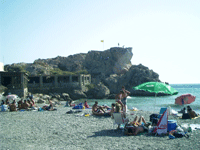 'Capellania' is a 3 bedroom luxury house which sleeps 6-8 + baby. Located in a rural setting with spectacular mountain views on the very edge of town, and discreetly hidden behind its large in-walled garden, yet only 5 minutes' walk to the centre of Órgiva, bustling market town.
£550 - £1 200 per week
Special low rates for longer low season lets. Please enquire.
ACCOMMODATION:
Although the house is modern, it has the ambiance of a Moorish-inspired romantic folly, with its circular library, sweeping marble staircase, stained-glass windows and a domed bathroom with a large oval marble bath that cries out to be shared. A spacious dining room through a colonnaded circular hallway flows into a large living room with comfortable sunken seating area round the wood-burning cast iron stove, as well as the TV viewing area.
There are two double bedrooms each with a double bed and a third bedroom with two single beds. All the wrought-iron beds were hand-made by a local blacksmith. Additional sleeping can be provided for two people on a sofa bed in the living room. A cot is available on request. The bedrooms have air conditioning at night.
There are two bathrooms: a large bathroom on the ground floor with a shower and a sunken marble bath, and a separate WC, and there isanother bathroom on the first floor, with a washhand basin, a bath with a shower attachment and a WC.
There is a washing machine. The kitchen has a fridge/freezer, a microwave, and a modern hob with gas and electric rings as well as an oven.
OUTSIDE:
The house is surrounded on all sides by a large well-kept landscaped garden on many levels, and with stone steps leading from one level to another, some passages shaded by canopies of vine. From the road, the house is almost invisible behind its spectacular and colourful range of tropical vegetation; from cypresses, jacaranda, bougainvillea, ancient olives, oranges, lemons, avocados, figs, to the more familiar cherries, greengages, plums and raspberries, and even with such unusual fruit as the Mexican freijos and Peruvian mangos. Most of the year, there is some fruit in season and the visitors are invited to graze. There is a large and very private terracotta-paved terrace shaded by a camellia tree, bordered by a couple of small raised walled ponds, one with gold fish, the other a home to frogs and water lilies, and overlooked by an enclosure inhabited by a dozen tortoises.
There is ample secure parking and it is possible to drive almost right up to the house, so those who find uphill walking difficult need not worry.
FURTHER DETAILS:
All bed linen and towels included, but beach towels are not provided.
The TV receives Spanish channels and the free-to-view British/English/Welsh language digital channels ie BBC1,2,3 and 4, ITV1, CNN, Sky News, BBC News24.
There is a CD player and a DVD player.
There is broadband Internet access.
With a number of ponds and a large deep irrigation reservoir, little children should not be left outside unattended at all.
The house has gas central heating.
The 9m wide by 4.5m wide swimming pool is directly next to the house and has underwater lighting. The depth ranges from 1.5m to 2m. The water is treated by pumped circulation through a filter and ioniser.
PRICES PER WEEK - see Owners Direct
In the low season, considerable discounts are available, depending on the length of stay.
From 7 Nov 2009 there is a heating supplement of £25pw.
NOTES ON BOOKING:
A deposit of 25% is required with booking; the balance to be paid 4 weeks before arrival. A returnable deposit for breakages/lost keys of £50 / €75) to be paid in cash on arrival. If booking is less than one month before arrival, the full amount is payable at time of booking.
CHANGE-OVER DAY:
Saturday - arrive after 5pm, depart by 10:30am.
ANIMALS AND PETS:
We regret that no pets are admitted.
LOCATION:
5 minutes walk from Órgiva (most facilities).
DISTANCE TO COAST/BEACH/OTHER TOURIST ATTRACTIONS:
The nearest beach is at Playa Granada 32km/25 miles/35min away, with a golf course and a restaurant. The nearest seaside town is Salobreña, 35km/27 miles/40 mins away, with all facilities and a Moorish castle on a towering rock. There are plenty of unspoilt coves to explore, with very private swimming possible. Granada with its Alhambra Palace and a mediaeval cathedral is 45km/33 miles/50 mins away. The ski resort of Sierra Nevada is in the mountains between Órgiva and Granada. Many charming Andalusian 'white villages' are 20 minutes drive away.
AIRPORT:
The nearest airports are Granada Airport (1 hour), Málaga Airport (Pablo Picasso), (21/4 hours' drive) and Almería (2 hours).
A large number of airlines fly to Málaga.
For more detailed information on flights to Málaga click here .
Granada Airport can be reached by changing at Madrid or Barcelona and is served by Iberia and Vueling .
Thomas Cook and easyJet fly from London-Gatwick to Almería.
Air Berlin, easyJet and Ryanair fly from from London Stansted to Almería.
Monarch, and Thomas Cook fly to Almería from Manchester.
For more permutations and to get the best deal on budget airlines go to Skyscanner.
However, don't forget that after adding in all the budget airlines' extras (eg luggage charges), flying with BA or Iberia may be just as cheap!
For more detailed information on flights click here .
RAILWAY:
The nearest railway station is Granada but the fastest services arrive at Málaga (c 24 hours from London, 29 hours from Berlin).
Much of the journey is now on high speed rail although an overnight sleeper journey is more restful.
To plan a railway journey see the SNCF or Deutsche Bahn sites. The 'Man in Seat 61' site also provides valuable information about booking such rail journeys.
FERRY
Brittany Ferries run from Portsmouth and Plymouth to Santander. The ferry takes about 24 hours and both ports are a day's fast driving (or two days' relaxed driving) away from Órgiva.
CONNECTIONS: CAR HIRE, BUSES etc:
It is possible to reach Órgiva by bus from Málaga in approximately 3 hours with a 10 minute walk from the bus stop to the house in Órgiva. It is also possible to get to Granada and to the sea on public transport quite easily. However, a hired car will certainly provide much more flexibility and freedom to explore.
We recommend Malaga Car Hire (http://www.malagacarhire.com), telephone number in UK: (020) 8398 2662 (int +44 20 83 98 26 62) for the cheapest all-inclusive rates.
The Alsina Graells company (part of Alsa - National Express) runs buses from Malaga to Orgiva, Malaga to Granada and Granada to Orgiva. The journey takes about 3 hours depending on the routing. The Alsa web-site will not show connections so journeys via Granada need to be entered in two stages.
CONTACT DETAILS:
For booking and further information contact Anda Tolkan on telephone number:

From Spain 951 238671
From the UK at local call rate: 0845 868 32 94
From outside Spain: +34 951 238671
e-mail:

How to get there from Málaga Airport
How to get there from Granada Airport
Local activities (opens in a new window)